Sensual Massage Movies – Masseurs
&

Therapists
At Sensual Massage Movies we are crazy about sensual massage and male to male intimacy!
To be able to lay back and receive the touch and attention of another person is probably one of the most enjoyable and most ancient pleasures a man can experience. But to be able to give an expert sensual massage or treatment is a skill that is both innate and learnt and to find a professional therapist who gives a professional service can be a challenge. That's why we at Sensual Massage Movies in London UK have decided to create the SMM Therapists section, enabling you to select a massage or therapy from a professional that we recommend.
CLICK HERE FOR OUR THERAPISTS DISCLAIMER
DISCLAIMER: Any service offered and provided by a therapist featured on Sensual Massage Movies is made as an agreement between yourself and the therapist is between them and yourself. If should be understood that any therapist featuring on the Sensual Massage Movie website is not affiliated with Sensual Massage Movies in any way and Sensual Massage Movies can not be held responsible for any inaccuracy regarding what they offer or the fee they charge or the service they give. Additionally, Sensual Massage Movies can not be held responsible for any misconduct or failure to provide the service advertised by the therapist.  Sensual Massage Movies can not be held responsible for any issue between the client and any therapist contacted via the SMM website before, during or after any appointments fulfilled or unfulfilled. Sensual Massage Movies is regularly updated but we cannot guarantee that information provided to us by the therapist for their listings is 100% accurate. If there is there is any doubt about a particular therapist's information, please [click here] to contact us and we will inspect their listing. For your own protection, Sensual Massage Movies advises that before meeting any therapist for the first time, let a friend or family member know about your activities and the therapists details.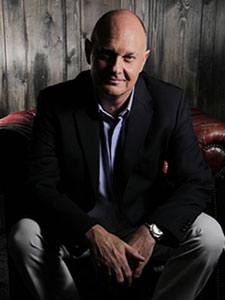 Colin – Masseur
Colin has been giving professional massage since 1995 and have over 6000 hours of massage experience. As well as being a full time Sensual & Therapeutic Masseur for men, women and couples, Colin also works as a Sexual Performance Mentor and Sexual Relationship Therapist helping clients improve their sexual performance and expand their sexual knowledge to enhance their sensual foreplay skills.
Colin believes that when giving a massage it should be given as partnership between the giver and receiver where the sensual energies can flow both ways. Colin's massage includes close body to body work.
[Click here] to enquire about booking Colin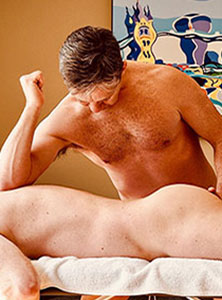 Jamie – Masseur
Hello, my name is Jamie and I am British from London. I live and work in the city. I like to keep fit by practicing yoga and doing martial arts. I use my experience of these disciplines to bring strength and precision to my massage so that I can create for you an intense yet calming and highly sensual and intimate experience. I also include body to body techniques and mix in light strokes to tailor your massage to your preferences. I give sensual massage on a part time basis so it is best to book in advance although sometimes I can give last minute appointments. I love to bring a deep sensuality and intimacy to your massage experience.
[Click here] to visit Jamie's website or call him on: 07999 858354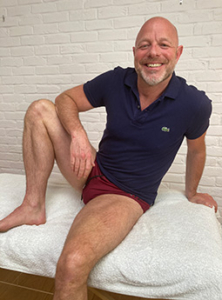 Andrew – Masseur
I am a British caucasian male based in CHOBHAM, Surrey offering a professional massage experience for all men, whether you are gay, bi, transgender or just exploring! University educated, Masculine, friendly and mature, my aim is to take you on a journey, creating a deeply relaxing and therapeutic experience for all the senses! I genuinely enjoy giving male 2 male massage; For me it's about bonding with and caring for other men's needs and giving up to 1.5 hours of escape from the daily grind; Never rushed with specially chosen music, candlelight, and aroma oils to help you drift into a different into a different world. I have recently qualified as a sensual masseur and was trained by Colin Richards. Men who have experienced my brand of massage so far have been wowed and sometimes even surprised at how it made them feel!
[Click here] to email Andrew about a booking or call: 07957 7824723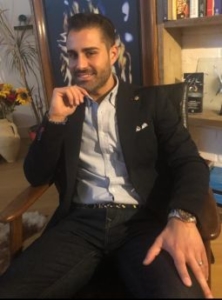 Anton – Masseur
SMM are pleased to introduce Anton a highly experienced masseur who in this video gives a superbly intimate sensual massage to client. This is exactly what you would receive should you decide to take an experience with Anton. Originally from southern Italy Anton is 33 years old and has lived in London for the past 5 years. Working as a mobile massage therapist Anton will come to your location fully equipped with a wide comfortable massage table, foot cushion & oils.  He graduated from the London School of Massage with over 500 hours of training and has been practicing professional massage therapy since 2017. If you want to book Anton for a massage he will travel to your London based location.
[Click here] to email Anton about a booking or call: 074790 02171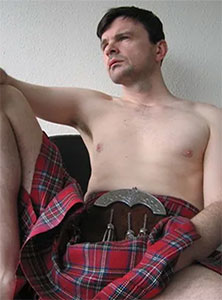 Rab – Masseur
Rab, which is Scottish, short for Robert. Rab is 44, 6'1, slim athletic build and now with added moustache. Trained in Swedish, holistic and sensual massage, with 13 years massage experience. Rab brings in a variety of creative methods to give an experience that ticks all the boxes.
[Click here] to email Rab about a booking or call: 07905 905015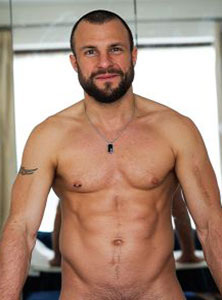 Mack – Masseur
Mack is South African born and has lived in London for 6 years. Mack has careers in theatre and personal training.  He gives 4 hands sensual massage to women and men in partnership with Colin. Mack was trained by Colin at Massage33 but he has added his own style and flavour to his massage; rhythm and spontaneity are key aspects of his style, ensuring that each massage is a new, exciting and personal experience. His aim is to simply be your guide in leading you to a place of sensuous bliss where arousal is welcomed and encouraged. Mack says "I take great care to ensure that your welfare and pleasure are paramount; I believe that it is imperative to build trust and connection before intimate touch can happen. I like to eat well and stay in shape and so I am able to bring strength and confidence to the massage, together with the arousing touch. Intimate massage comes naturally to me and a big part of my enjoyment is in the pleasure I give to you"
[Click here] to enquire about booking Mack.