Feature in an SMM Movie and receive FREE Membership and Massage
In exchange for your time and your body, you will receive in return:
* A FREE 75-minute full-body sensual massage (taken separately at a time to suit you).
* A FREE 12 Months Membership to access Sensual Massage Movies.
* And for some a cash fee also, (see conditions below).
Example Movies
To watch two example movies to see how volunteer models take part Click Here
How do I apply?
 Click Here and complete the SMM volunteer application form, and we will be in touch regarding future filming dates.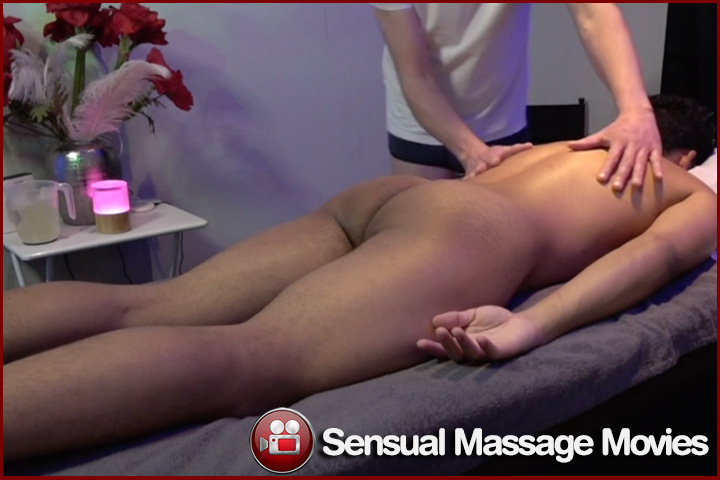 Professional Masseurs – Get more clients
A perfect platform for professional masseurs to promote their skills to thousands of SMM members who love male to male sensual massage. Contact us with your details and we will arrange a movie shoot FOR FREE. Demonstrate your skills as a sensual masseur and then we will promote your movie to our membership who will then contact you direct to book a massage with you. We see this as a Win Win arrangement as we get great movie material and you get many more clients
Questions and answers for becoming a giver or a receiver:
Q. Who can take part as a volunteer giver or receiver on SMM?
A. We are interested to hear from men (18-55yrs) or women (18-40yrs) who are comfortable to be filmed naked either receiving or giving a full body sensual massage. All movies are directed so no need to be worried about what to do or how to do it as you will be shown.
Q. How sexual is the content?
A. In keeping with the character of the SMM movie themes, content is kept to hands on body, body to body, hugging, kissing and arousal to orgasm. Filmed scenes never show oral or full sex.
Q. Where are the movies filmed?
A. Usually they are filmed in a professional massage studio in Central London. The location is well appointed, private and discreet. However sometimes filming can be held in other locations. For example, private apartments, hotel rooms, discreet out door locations. Locations are always confirmed before filming takes place.
Q. How many are usually present during the filming?
A. The only persons present at the filming session is the film maker and the volunteer receivers. The most present would be if a small group massage is being filmed with a maximum of 4 or 5 receivers but generally 2 receivers would be present at any one time for most film making.
Q. Do I have to reveal my identity?
A. No, if specifically requested, with careful filming the receivers identity can be kept anonymous however it is preferable that at least the back or sides of heads can be shown. Ideally we do like to be able to show the receivers reactions so those volunteers who are happy to have their face on film will always get priority option to attend.
Q. Do I have to be a competent masseur to take part?
A. No, we feature both enthusiastic amateurs and professional masseurs and you can chose to be either a giver or receiver of the massage, or both.
Q. Do I have to have a fit body to take part.
A. We do like to feature fit healthy bodies so if have either a toned, muscly, slim or athletic body we are definatly interested but we do also like to occasionally feature average bodies.
Q. Do you want to see a photograph of my body?
A. Yes, if applying please send a supporting photograph with your application.
Q. Do I get to chose who I do the filming with?
A. If you come along with a friend then we are very happy to have you take part together but generally most volunteers come as singles and we try to match you with someone whom we feel you will have a chemistry with.
Q. Do I get paid anything for taking part in a movie?
A. We only pay a financial fee to volunteers who have fit and toned bodies and who are happy to have the face shown in the movie. All others we give a years free membership of the SMM movie web site and a complimentary 75 minute massage, (taken separately), given by a professional sensual masseur. We are also happy to provide a copy of the edited movie that you take part in.
Q. I am a professional masseur and I would like to use the SMM movie opportunity to promote my work. Is this possible.
A. Yes, absolutely we welcome professional masseurs to come along and use the SMM platform to promote their skills. You can give what ever style of massage you like ( a long as its within the SMM brief) and we are also happy to run a promotion for you to our 10,000 news letter readership and link your movie to your contact details and web site. You will also receive a copy of you movie for free use.
Q. How often do you make movies?
A. Every 2 weeks so we are always looking for new volunteers.
Q. How do I apply?
A. [Click Here] and complete the SMM volunteer application form and we will be in touch regarding future filming dates.