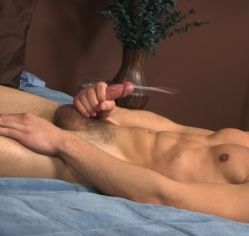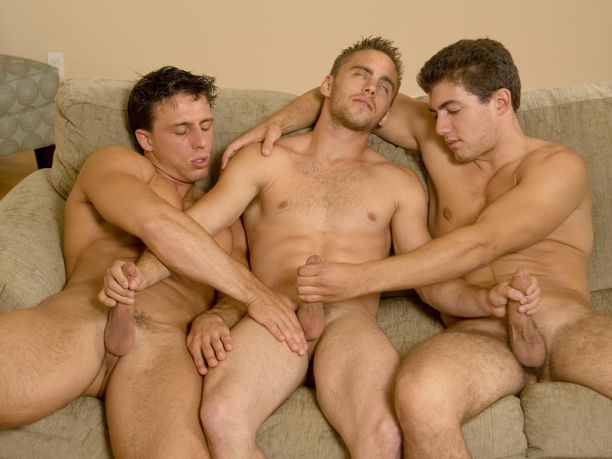 1. Use your love muscle
Great abs may help you get lucky, but if you want to get the most from the experience you need to work on your pubococcygeal (PC) muscle. At the floor of your pelvis, it controls peeing and spasms during climax, which is why doctors and sex therapists recommend developing it to improve orgasm and reduce the chances of premature ejaculation. It's also the muscle that enables dogs to wag their tails, but that's another story entirely. Kegel exercises will develop PC power. Squeeze the muscle you use to hold back your pee. Once you've identified this muscle, tighten it, hold for two seconds, then release. Repeat 20 times, three times a day, gradually holding it tight for longer. And keep at it. "Kegels must be done on a regular basis to have any benefit," says Gordon Muir, consultant urologist at King's College Hospital.
2. Take it to the edge
No technique is as successful in improving male orgasms as edging – holding back at the point of no return, resting, then working up to it again. And again. And again. Practice by masturbating until you're about to come, then stop, slow your breathing and wait 30 seconds before carrying on. Or try preventing ejaculation by gently pulling down on your testicles or squeezing the tip of your penis just as you're about to orgasm. Then repeat the process. Master the art of edging and you'll achieve contractile or "dry" orgasms: all the fun of the Big "O" minus the ejaculation and subsequent loss of wood. If you practise enough you may even experience the male multiple. "The technique can result in incredibly intense orgasms," says
Dr Barbara Keesling, lecturer at California State University, USA.
3. Watch Saturday's big match
Or work out. Or rent The Godfather Part II. Or go for a run. All of these activities have been shown to raise testosterone levels. (By studies at the University of Northumbria, the College of Kinesiology at the University of Saskatchewan, Canada and the University of Michingan, USA, respectively, if anyone asks.) And researchers at Athens' Military Hospital in Greece found that the more testosterone a man has in his bloodstream, the better his chances of achieving orgasm.
4. Don't play with yourself
Okay, stop "practising". Masturbation won't give you the kind of mind-blowing eye-roller that sex will. You know it, your partner knows it and what's more Mother Nature likes it that way. According to a study by Stuart Brody, professor of psychology at the University of Paisley in Scotland, the body releases 400% more of the hormone prolactin (which makes us feel sexually satisfied) following vaginal penetration than it does after masturbation. "Evolutionary forces always reward behaviours associated with successful reproduction," says Brody. "And penile-vaginal sex is the only sexual behaviour that passes on your genes."
5. Take a deep breath
Ask any tantric sex therapist, or Sting, how to achieve full-bodied orgasms and they'll tell you the key is controlled breathing. "If you keep it deep and regular, allowing more intense arousal to build, your orgasming will become more and more satisfying," says Barnaby Barratt, formerly of the American Association of Sexuality Educators, Counselors and Therapists. Rapid breathing, on the other hand, increases your excitement, pushing you over the edge. "Breathing methods intensify male orgasm by increasing oxygen to the physiological processes involved in arousal," says Barratt. Take shallower in-breaths through your nose and deeper out-breaths through your mouth to diffuse inevitable psychological and muscular tension and intensify your orgasmic experience.
6. Use your brain
"Orgasm is all about brain activation," says Gert Holstege of the University of Groningen in the Netherlands, who has studied men's and women's brainwaves during orgasm. "The brain activates the genitals and controls everything." Unlike women, though, who experience intense activity in the area of the brain connected with emotion, men experience most activity in the secondary somatosensory cortex, which deals with physical sensations. The upshot? For better orgasms, your partner needs to focus more on your penis and you need to focus on the sensations coming from it.
7. Heat things up
Really. Scientists at the University of Groningen stumbled across a curious fact: men with cold feet had a much harder time reaching orgasm than those wearing socks. The more comfortable we are, the more relaxed we are, and relaxation means better orgasms. However, since most women find the sight of a man wearing nothing but his socks about as sexy as a parking ticket, just stick the heating on.
https://www.sensualmassagemovies.com/wp-content/uploads/2016/04/Gay.Jock_.Gregory.Beating.His_.Meat_.In_.A.Wanking.Video_.6.jpg
236
249
Webmaster
https://www.sensualmassagemovies.com/wp-content/uploads/2015/09/smmlogo003.png
Webmaster
2016-04-13 17:03:04
2018-06-02 09:16:37
Improve your orgasm